PureGray Health & Spa at Le Gray, Beirut
TTN's choice offerings include islands and beachside attractions and even a blissful getaway at sea!
SPA and wellness tourism offerings are well placed for fast-track growth in the region. Triggered by the increasing demand, the global wellness industry has witnessed incredible developments in recent years as more people want a health and wellness aspect in their holiday agendas or even corporate travel itineraries. A number of wellness and travel trends are expected this year including a move towards healthy holidays such as eat well, detox holidays and get-fit boot camps resulting in an increased number of wellness packages offered at spas. The exclusivity of spa and wellness is also set to become less apparent as it becomes more mainstream.
The global wellness industry grew 10.6 per cent to become a $3.72 trillion market, with the spa market a key driver according to new research from the Global Wellness
Institute (GWI).
According to research from Colliers Experiential Travel Series: Wellness, Spa and Medical Travel 2017, the UAE spa industry is estimated to be valued at $460 million, accounting for 14 per cent of the Mena spa market.
Other trends set to benefit the region in 2017 are an expected increase in demand to embrace local culture, heritage and sights. Safari holidays in Africa are increasingly including yoga, spa and meditation as part of the itinerary. We take this opportunity to take a world tour stopping to admire some of the most exciting spa developments and innovations.

Scintillating SeychellesThe Maldives mantra
The newly opened Hurawalhi Island Resort's blissful Duniye Spa brings visitors closer to nature. Duniye means "universe" and the name represents its philosophy: a universal approach to wellness, with treatments inspired by ancient and modern expertise from around the globe, overlooking the vibrant turquoise water.
A strong influence from the healing traditions of Asia and Africa can be seen in the spa's repertoire, including the use of local ingredients and treatments inspired from traditional cultures. Channeling wholeness, simplicity, purity and quality, the spa uses only the highest quality chemical free, organic compound products from 'Healing Earth – they are all free from petrochemicals, synthetics, colourants, preservatives and parabens.
With a strong environmental focus, Hurawalhi Island Resort gives back to the Maldives as much as it gets. Using solar panels, its own water bottling plant, energy saving solutions, hot water recovery and an in-house marine biologist, Hurawalhi Island Resort's eco credentials are among the best in the island-nation.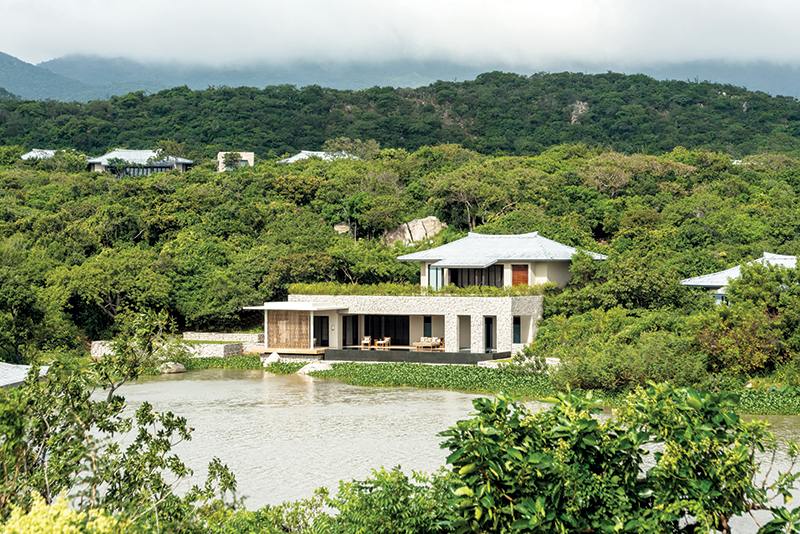 Six Senses Hotels Resorts Spas has opened its first property in the Seychelles with Six Senses Zil Pasyon. Drawing upon the renowned Six Senses perspective of providing innovative top-tier facilities wedded to environmental responsibility, the resort has been brilliantly designed to embrace the picturesque landscape of vibrant beauty.
It might be expected that in an environment as overwhelmingly engaging and breath-taking as Félicité, Six Senses Spa would be in its element. The creators have therefore placed the spa in and atop majestic rock formations close to the ocean, with energy from nature being a significant life force. Facilities include a stunning elongated infinity pool offering views of the surrounding islands with the ocean's waves breaking over a rock wall, three white sand beaches, Trouloulou villa for youngsters, a gym with on-site personal trainer, cooking classes, treasure hunts, signature cinema beneath the stars and a library.
Right off the resort's beach, guests have the opportunity to swim with turtles and the resort's Experience Center has all the equipment that is required for exhilarating water activities, including dive excursions around the island. Six Senses hosts can arrange private fishing trips and visits to neighbouring islands by boat, hiking in the Coco de Mer Valley, which is a popular excursion for landlubbers, or climbs to the top of the hill to Sunset Point for magnificent nightfall
experiences.
Vibrant Vietnam
An extensive spa menu including specialised massage techniques and treatments such as Watsu, Reiki, craniosacral therapy, acupressure, reflexology and Chi Nei Tsang can be fully tailored at the newly launched Amanoi in Vietnam featuring two Spa Houses, the first of their kind for Aman. Bodywork and Energywork therapies are some of the other wellness therapies offered to guests.
To coincide with the launch of the Spa Houses, Amanoi has also introduced three Individual Wellness Immersions, which can be experienced all year round. The Spa Houses blend seamlessly into the surroundings, with each encompassing a spacious double treatment room, Jacuzzi, and steam room complemented by an ice fountain and cold plunge pool. An outdoor infinity pool perches on a relaxation deck, while a hammam and banya (sauna) complete the thermal facilities. For a fully immersive experience there is also the option of residing overnight in the Spa Houses' bedroom and living areas, which can accommodate between two and four guests.
Kuwait kick start
Talise Spa is out to pamper Kuwait with a new level of indulgence at Jumeirah Messilah Beach Hotel & Spa. Count on tailored packages in its private suites, a renewed ladies' membership program, and the launch of the new luxurious British spa brand and organic skincare brand, ILA.
Voted as the Best Luxury Destination Spa and Best Luxury Resort Spa in Kuwait by the World Luxury Spa Awards 2016, Talise Spa has curated a number of treatments and therapies as part of its new Suite Menu. The treatments are designed to invigorate the body and soothe the mind with experiences ranging from two hours to more than four hours of ultimate pampering.
Talise Spa has also renewed its Ladies Talise Spa Membership, providing female residents regular indulgence with a wealth of health and fitness benefits. Combined benefits range from unlimited access to the spa's luxurious facilities, complimentary personal fitness sessions, exclusive facials, scrubs, and signature massages, a private ladies fitness gym and studio, along with day passes to the beach area and the resort's main pool and infinity pool. Having recently partnered with Ila, the organic handmade luxury skincare brand, Talise Spa now exclusively offers treatments using ingredients derived from the finest plant and earth minerals such as Himalayan Salt.
Spa at sea
Royal Caribbean's spa experience offers a great many options, including the line's teen-geared YSPA programme, where children aged 13 to 17 can also book treatments such as the surfer scrub and acne attack in addition to standard facials, manicures, pedicures and massages. Indulgence on the sea is offered in a special ritual designed to melt away tension and stress with a deep-tissue massage, acupuncture, bamboo massage, detox service and many
other treatments.


The cruise line's Vitality Spa stands out for its huge gym complexes which are among the largest of any cruise-ship fitness centre. The workout areas offer an impressive range of free weights and cardio machines with personal LED screens, as well as a separate room for classes like cycling, boot camp, yoga, Pilates and Tai Chi, and even activities for children.
Blissful Beirut
Well-known as one of the most luxurious and minimalistic of spas, PureGray Health & Spa at Le Gray, Beirut is inviting GCC travellers to spoil themselves with a range of signature treatments all designed for the ultimate wellness
weekend break.
Jungle Jane
PureGray Health & Spa prides itself on offering innovative and restorative skincare treatments that are exclusive to them, from Spanish specialists Natura Bisse to organic Tisserand oils and aromatherapy; therapies are tailor-made to each guest and combine European and Eastern philosophies focusing on a rich, holistic experience.
The 'Pure Indulgence' signature massage ritual is touted as the ultimate in rejuvenation. A blissful full body massage performed by two therapists working in tandem to enhance the experience. Starting with a foot ritual, followed by the actual massage itself and completed with a simultaneous energizing facial and foot massage.
After winning Best Safari Spa in Africa 2017 at the Safari Awards ceremony in London, Karkloof Safari Spa in South Africa deserves every bit of our attention.
Karkloof owner, Fred Wörner, says, "My vision was to create an opportunity to live amongst wildlife, while leaving a minimal footprint on the landscape, a place where time stops, an experience I and my guests have enjoyed and which has massively added to the quality of our lives. Interest in Karkloof comes from those who love Africa or want to discover Africa and love the idea of living cheek by jowl with wildlife in a green and sustainable way, where wildlife will always have priority. The awards tell us we are doing something right."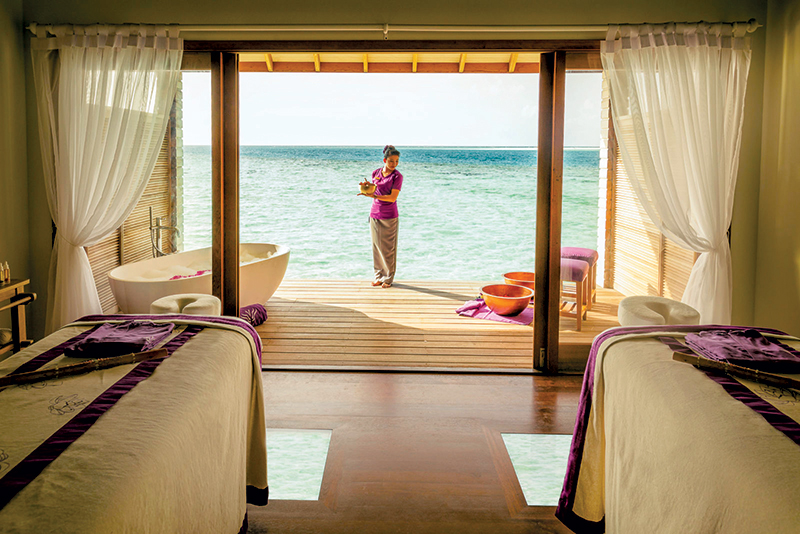 The ultimate African Spa Experience promises the highest level of care, along with tranquil views of the surrounding wilderness and wildlife. A feast for the senses provides for an exceptional spa experience. Indulge in any of a vast array of treatments and activities, managed by highly trained team of Thai therapists. Some of the most popular therapies and activities include the 60-minute "Thai Melon and Honey Facial", the 45-minute "Coconut Body Polish", signature 90-minute massages and floating atop the indoor Dead Sea salt pool. Karkloof is home to no fewer than 486 species of mammals, birds, butterflies and amphibians – a virtual sub-tropical paradise with no predators.
Nature themed activities include walking, hiking, mountain biking, fishing and game drives. And after a busy day game viewing there is a sumptuous spa to relax in and indulge one's senses. Located on 7,400 acres and home to three of the Big Five (elephant, rhino, buffalo), this is Africa's largest Spa.
*************************************************************************************
Swiss sculpture
LACLINIC Montreux offers a holistic approach to fortify the physical image by bringing together beautification, lifestyle management and medical sculpture.
With an outstanding ambience and top-notch amenities, it is easy to forget that LaClinic is a centre for aesthetic excellence rather than a palatial resort. Patients are welcomed like celebrities with the utmost importance given to luxurious privacy. Eight stunning suites are available with balconies overlooking a picture-perfect backdrop of Lake Geneva and snow-capped mountains. To complement this exquisite view a private chef is on call to prepare the finest international culinary delicacies.
The clinic, directed by world-renowned aesthetic surgeon Dr Michel Pfulg, offers a bespoke treatment plan, individually tailored to patients' medical needs and emotional desires. Dedicated consultation is the fundamental start of the process at Laclinic, where an expert aesthetic doctor assesses the patient's condition and provides the best treatment plan.
The clinic prides itself on always preferring non-invasive treatments that employ the latest scientific breakthroughs. Non-invasive procedures provide gentle support to people even as young as 30, just as the first signs of life's struggles appear.
A few examples are: non-surgical facelifts, which combine the effects of fillers together with Botulin toxin (Botox) to combat wrinkles and to firm up facial skin; infra-red skin-tightening, which causes immediate collagen contraction resulting in tighter, firmer skin; permanent hair removal through a special flash lamp lasers and a vast array of laser treatments for innumerable skin imperfects such as age spots, blotches and dilated pores.
All services provided are focused on enhancing patients' overall image so only when the need truly arises; the option of surgery is explored. Almost every part of the body is available as the canvas for the surgeons at Laclinic ready to bring out patients' prime physical attributes.
Liposuction, bust augmentation, hair transplantation and body sculpting are a few examples of the surgical corrections offered. To ensure that all procedures have their intended long-lasting effect, co-operative life management programs are available that allow patients to revise their approach towards nutrition, weight management, anxiety and mental well-being.